Friday, July 6, 2018 -

10:00am

to

5:00pm
On Free Fun Friday Boston Children's Museum will close at 5:00 PM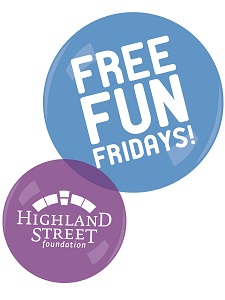 On Free Fun Friday Boston Children's Museum will close at 5:00 PM
Boston Children's Museum is participating in the 10th annual Free Fun Fridays program sponsored by the Highland Street Foundation. On Friday, July 6, 2018 Boston Children's Museum will open its doors at no cost to visitors from 10:00 AM - 5:00 PM.
The Highland Street Foundation's "Free Fun Fridays" summer program provides no cost admission to 100 treasured cultural institutions throughout Massachusetts, for 10 weeks beginning on Friday, June 29. For more information and a full schedule, please visit: www.highlandstreet.org/programs/free-fun-fridays
Visitor Tips for Free Fun Friday
Free Day is the busiest day of the year at Boston Children's Museum. Expect to share the Museum with hundreds of other visitors.

Members— please check in at the Admission desk, as you normally do. There is no need to wait in the General Admission line.
The line to get into the Museum is very long and will extend outside. We suggest you bring sunscreen, a hat, and water. If anyone in your party has issues being in the sun, you should plan to hold their place in line and let them wait in the shade. There will be entertainment outside while you wait.
Stroller parking is very limited. In addition, it may be difficult to maneuver larger strollers around the exhibits. Please consider bringing a small umbrella stroller or leaving your stroller at home or in the car.
We strongly discourage groups from visiting on Free Fun Friday. We offer sponsored visits throughout the summer. Please visit the Groups section of our Website for more information.
Stay together at all times during your visit and have a plan in case you get separated. Children should know the full names of the adults they are with -and that Museum staff in Green aprons can help if they are lost. All children (under age 16) must be accompanied by an adult at all times during their visit.
Adults visiting without children must check in and leave a photo ID at the Admissions desk.
Lunch space is available in the Museum Lunchroom, the Group Welcome Room on the 1st floor, as well as outside on our plaza (weather permitting).
There is no food or drink (other than water) allowed in the Museum.
A limited number of lockers are available on the 1st Floor.