Wednesday, November 13, 2019 - 12:15pm
Most Wednesdays and Saturdays at 12:15.
Location:
Outside the Japanese House
Gather around for Kamishibai storytelling! Mosaku only likes to eat his favorite sweets. One day, his father decides to take him to a place that is said to have many tasty treats!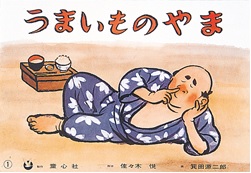 Kamishibai is a traditional method of storytelling in Japan using a set of story picture cards in a small wooden stage. In olden days before the era of televisions, Kamishibai was very popular entertainment for children, and storytellers, also candy sellers, came on bicycles to perform on the streets. Although these street performers are no longer to be found, Kamishibai is still a popular and appreciated form of storytelling and oral tradition in Japan today.