Friday, October 18, 2019 -

3:10pm

to

5:50pm
Come explore science.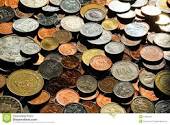 Pennies, pesos, yen, yuan, euros, rubles and bhat - coins come in many colors, shapes and sizes. Count the coins. Sort them and identify similarities and differences. Use magnifying tools to take a closer look at the words and numbers and images. What do the symbols represent? Can you find coins from places you have lived or visited? Find new stories and questions as you explore coins from around the world.
Science Explorations happen throughout the day. Check the sign in the Museum lobby for hours. At other times enjoy self-guided discovery boxes.