Friday, February 14, 2020 -

11:10am

to

4:30pm
Circles, Triangles, and Squares Oh My!
Explore drawing, designing, and building with shapes of all kinds.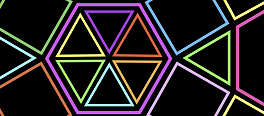 The Art Lab is a dynamic, hands-on activity space designed to encourage children to explore ideas, artists and art from around the world. During busy times, the Art Lab doors open for about 20 visitors (adults included!) at a time. Occasionally the Art Lab is closed for cleaning or to set up a new activity. Otherwise, you can drop in at any time, and stay as long as you like!