© Alissa Daniels
Calendar: Health & Wellness This Week
Stretch, breathe deep, and practice a new pose in a
Family Yoga
program. Learn about delicious, healthy snacks on
Tasty Tuesday
. Try the
Paper Plate Discus Challenge
as part of our
Kids Olympics
. Boston Children's Museum promotes healthy development of all children with programs that encourage active play, healthy eating, and understanding our bodies.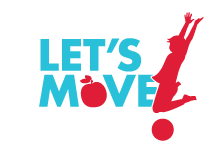 Boston Children's Museum is part of
Let's Move!
, a comprehensive initiative launched by First Lady Michele Obama, dedicated to solving the challenge of childhood obesity, so children will grow up healthier and able to pursue their dreams. As part of this campaign, we encourage young children to build healthy bodies and healthy minds. Museum Health and Wellness programs help children learn how to appropriately express their emotions, cooperate, and get along with others.
Museum Educators work with professionals from local and national institutions such as Children's Hospital Boston, The Forsyth Institute for Dental Health, American Physiological Society, and government agencies such as Massachusetts Department of Mental Health and Boston Public Health Commission to present programs that meet the needs of families and share current understanding of best practices in health and wellness.