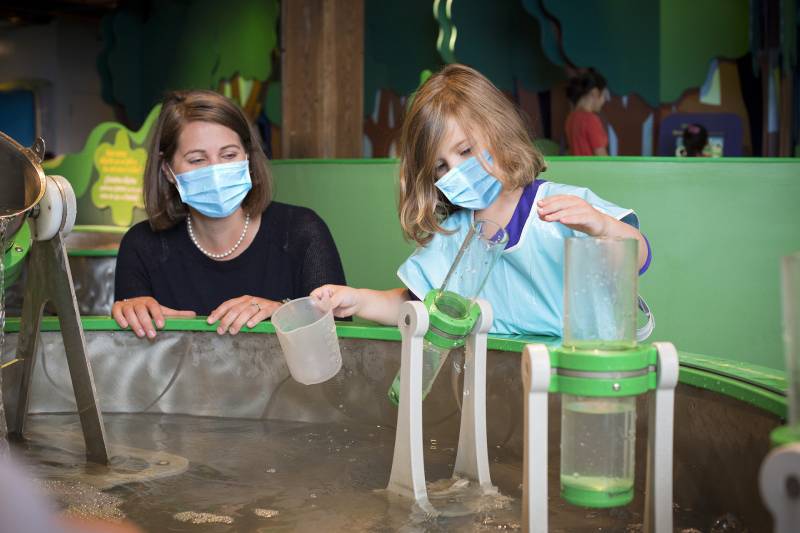 Are masks required?
Beginning Wednesday, March 9, 2022, masks will be recommended but not required for all Museum visitors. At this time, however, the Museum staff will remain masked when interacting with our visitors.
How are things cleaned and how often?
The Museum is maintaining cleaning capacity at a high level. The Museum will conduct a deep cleaning between the two (2) ticketed time slots. During this time Museum facilities, janitorial staff members and front-line staff will work together to get the Museum ready. High traffic exhibits and public spaces will receive an electrostatic cleaning.
Consistent with existing practices, the Museum will conduct a similar deep cleaning at the end of each day. The Museum will continue to source and use cleaning and disinfecting products that are recommended by the Centers for Disease Control and Prevention (CDC) and are EPA-approved. 

Ticketing & AdmissionsWhat days and times will the Museum be open?
The Museum will be open Wednesday - Sunday in two time slots 9:00am-12:00pm and 1:30pm-4:30pm
Can I purchase tickets onsite?
Advance online
https://www.bostonchildrensmuseum.org/ticketing
or phone reservations are required.
Will you accept cash?
If you wish to pay in cash, please call 617-426-6500 and choose option 4 to make a phone reservation.
Will you have timed ticketing? How does it work?
The Museum will be open in two slots, 9:00am-12:00pm and 1:30pm-4:30pm Saturday and Sunday. Your ticket will be valid for one time slot. The entirety of your visit will take place during the time slot.
How much time does my timed ticket allow?
Three hours.
Is proof of my timed ticket required?
Yes. If you purchase tickets online, please bring your ticket PDFs. The PDF does not need to be printed, showing it digitally is fine.
What if I arrive late for my timed ticket?
Your ticket is valid for the entire slot. You may arrive at any point during it, but your entire visit must take place during the scheduled time slot. Tickets are only valid for the date and time selected at time of purchase.
What if I buy timed tickets and can't come on that day/time?
If you need to reschedule a reservation due to health concerns, please contact
Orders@BostonChildrensMuseum.org
for a possible opportunity to move your reservation to a future date. 
Can I leave the Museum and reenter on the same day?
You may leave and re-enter the Museum during your timeslot.
What if I feel uncomfortable after entering the Museum?
If you feel uncomfortable after entering, please ask to speak with a manager or contact us after your visit at
Info@BostonChildrensMuseum.org
. We value your feedback and will work with you to find a solution.
What if I have tickets that I previously purchased?
If you have previously purchased tickets, please e-mail
Orders@BostonChildrensMuseum.org
.
Are you accepting any discounts? (EBT/WIC, Educators, Library, Military/Veterans, etc.)
Please visit
https://www.bostonchildrensmuseum.org/visit/ways-save
for our current discount programs.
My company is a Corporate Connections member. How do I redeem my passes? Is there a special online code for timed ticketing?
Please make a discount ticket reservation
https://www.bostonchildrensmuseum.org/ticketing
MembersDo I have to make a reservation?
For your safety, so that the number of people in the building can be limited, all visitors, including Family Members need to make a reservation in advance. There is no charge for Family Members to make a reservation. To make a reservation visit this page
https://www.bostonchildrensmuseum.org/ticketing
Am I limited in how many times we can visit?
Family Members are not limited in the number of times they can visit. You may book one reservation per day. You cannot make reservations for multiple days on one day. For safety reasons, the number of people allowed in the building will be limited.
AmenitiesCan I bring in my own food?
Yes, you can bring in your own food. You may eat in our lunchroom on the first floor. Food is not allowed in the Museum exhibit and common areas. Masks are not required while seated in the lunchroom and eating.
Will there be water available from the fountain?
Refilling water bottles will not be available. There will be water for purchase in vending machines in the Lunchroom and Stonewall Kitchen in the Museum building.
Will the cafeteria be open?
Yes, the lunchroom will be open.
Will I have access to vending machines?
Yes, the vending machines will be available. 

When you arrive at the Museum, please proceed to the Admissions Desk. You will be required to present your online reservation and Corporate Connections passes for entry.
Exhibits & ProgramsWhat exhibits are open/closed?
All exhibits will be open, though some will have small modifications or changes. Please note that PlaySpace will require a separate, free reservation in addition to your admission reservation. Subject to capacity, some walk-in slots for PlaySpace may be available on the day of your visit. 

Private Events & GroupsCan I reserve a special event?
Yes. With more than 88,575 square feet of usable event space, including seasonal outdoor space, Boston Children's Museum is well suited to hosts events under the guidelines and recommendations of the local public health department.
Our special event partner, MAX Ultimate Food, will work with you in designing your event in this new environment. The safety and well-being of you and your guests is our top priority. For additional information, please email
bill@maxultimatefood.com
or telephone 857-212-9580.
Can I make a group reservation?
As the Museum transitions and adjusts to a new normal and schools, camps, and community organizations do the same, group reservations will be considered on a case-by-case basis. Please e-mail
GroupVisits@BostonChildrensMuseum.org
.