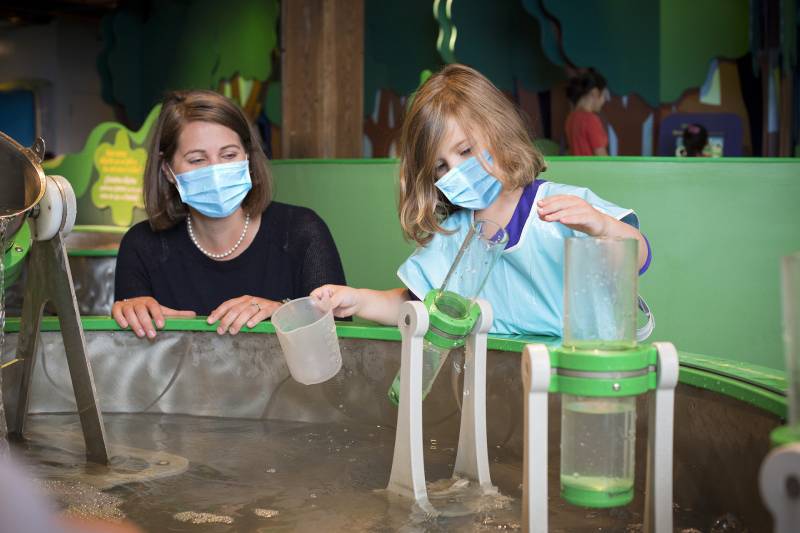 Safety & Cleaning
How can I prepare my child in advance for the health and safety measures in the Museum?
We recommend that you
read this story
with your children to learn what to expect during the Museum visit. This social story is for helping young children learn about healthy and safe play while at the reopened Museum.
How do you maintain social distancing with kids?
In accordance with state and city guidelines, Boston Children's Museum will re-open at significantly reduced capacity to allow for proper social distancing. Safe distancing will also be facilitated by visits limited to two 2 ½ hour visit time slots each day.
To manage visitor capacity, admission is by advanced registration and ticketing only. All exhibits will have recommended capacity limits based on CDC guidelines and on the specific size and layout of each space. The capacity of each exhibit will be posted and visible to our visitors. We ask that families respect the space of other families while being understanding that social distancing is hard for children. Museum staff will have an increased presence to assist with social distancing concerns or questions. There will be extensive signage throughout the Museum to inform visitors of ways to travel through the exhibits, guide their trips to restrooms and other Museum services and encourage social distancing everywhere.
There will be hand sanitizer throughout the Museum. We also recommend bringing your own to supplement. Visitors are encouraged to clean hands often.
Will everyone including children have to wear masks?
Museum staff and any visitors age 2 and over will be required to wear masks that cover their mouths and noses. Guests who have medical issues which may prohibit them from wearing a mask should call the Museum prior to purchasing tickets. Guests with accessibility needs (OR disabilities) may fall into this category as well. The Museum will work with these guests to provide a reasonable accommodation.
Are you giving out stickers to those who cannot wear masks?
To alleviate concern for all visitors, we will provide stickers to those with medical/accessibility issues who cannot wear a mask.
Are you handing out masks?
As you can imagine, as a non-profit we cannot afford to provide masks to all our visitors. We will not be distributing masks to visitors. All visitors are expected to bring their own masks. A limited number of masks will be available for purchase at the admissions desk.
Since masks are required, will there be posted guidelines?
As determined by the CDC and state mandated by the Commonwealth of Massachusetts, it is within everyone's best interest to wear a mask at all times while in public. The Museum will make clear to all visitors that masks are required.
Boston Children's Museum code of conduct and guidelines regarding mask wearing will be posted in many places. First, our Code of Conduct, which includes face masks, will be prominent online when visitors purchase their tickets. It will also be posted at Admissions and throughout the Museum. Visitors who are not able to wear masks due to a medical condition should call the Museum before they purchase tickets.
Are you taking temperatures?
At this time, Boston Children's Museum will not be taking the temperature of visitors.
Is your staff having temperatures taken?
All Boston Children's Museum staff will complete a daily health check prior to entering the Museum.
Are you improving the air quality in the building?
Given we are a children's museum, we have always brought in more fresh air than is typical for a commercial building. We are maximizing this factor each day. In addition, the Museum has upgraded their HVAC filters to help catch as many small particles as is practical.
What physical changes are you making to the building to enhance safety, such as reorienting the entrances and exits, putting up glass barriers, etc.?
The Admissions and entry process has been streamlined to reduce contact and time entering the building. There will be a dedicated entrance and time to enter the building. Floor graphics will promote physical distancing while in line, and plexi-glass barriers installed at Admission and information counters will protect staff and visitors.
How are things cleaned and how often?
The Museum is maintaining cleaning capacity at the highest level possible. The cleaning procedures that we follow are mandated by state guidelines as set by the Massachusetts Department of Early Education and Care. Loose parts in the exhibits will be exchanged for clean ones after each time slot. Frequently touched surfaces will be wiped multiple times throughout the day.
How has the cleaning changed?
We have increased cleaning frequencies throughout the Museum. The time between visitation time slots allows us to clean thoroughly during this time. We have added sanitation wipes and hand sanitizer stations within the Museum and exhibits.
Cleaning will happen frequently-before, during, in-between, and after visitors enjoy the exhibits. High touch areas will get extra attention. Exhibit parts will be sanitized as needed and between scheduled visitor sessions.
All loose parts and manipulatives in each exhibit area will be removed and replaced with a fresh set at the beginning of each session and throughout the day as needed.
Used parts bins will be available for used parts and tools (like golf balls and fake food).
Staff will rotate throughout the day, continuously monitoring and disinfecting high touch areas, coordinating the collection of loose parts, and reminding visitors to place used loose parts in the used parts bins.
The Museum will conduct a deep cleaning between the two (2) ticketed time slots. During this time Museum facilities, janitorial staff members and front-line staff will work together to get the Museum ready. All high touch areas such as tabletops, countertops, buttons, magnet walls, benches, seats, handrails, elevator buttons, trash cans, doorknobs, light switches, and restrooms will be cleaned and disinfected, and a fresh set of loose parts will be laid out for visitors. High traffic exhibits and public spaces will receive an electrostatic cleaning. All surfaces will be cleaned to reduce germs and disinfected per guidelines issued by both CDC and EEC for spaces with small children.
Consistent with existing practices, the Museum will conduct a similar deep cleaning at the end of each day. The Museum will continue to source and use cleaning and disinfecting products that are recommended by the Centers for Disease Control and Prevention (CDC) and are EPA-approved.
Are the bathrooms open and how often are they cleaned?
Bathrooms are open but limited to two individuals or one visitor group (no more than four people in a group) at once to respect social distancing requirements. Bathrooms are cleaned multiple times throughout the day.
Ticketing & Admissions
What days and times will the Museum be open?
The Museum will be open Wednesday-Sunday in two time slots 10:00am-12:30pm and 2:00-4:30pm.
Can I purchase tickets onsite?
No. Advance online
https://www.bostonchildrensmuseum.org/ticketing
or phone reservations are required.
Will you accept cash?
If you wish to pay in cash, please call 617-426-6500 x285 to make a phone reservation.
Will you have timed ticketing? How does it work?
The Museum will be open in two slots, 10:00am-12:30pm and 2:00-4:30pm Wednesday-Sunday. Your ticket will be valid for one time slot. The entirety of your visit will take place during the time slot.
How much time does my timed ticket allow?
Two hours thirty minutes
Is proof of my timed ticket required?
Yes. If you purchase tickets online, please bring your ticket PDFs. The PDF does not need to be printed, showing it digitally is fine.
What if I arrive late for my timed ticket?
Your ticket is valid for the entire slot. You may arrive at any point during it, but your entire visit must take place during the scheduled time slot. Tickets are only valid for the date and time selected at time of purchase.
What if I buy timed tickets and can't come on that day/time?
If you need to reschedule a reservation due to health concerns, please contact
Orders@BostonChildrensMuseum.org
for a possible opportunity to move your reservation to a future date. Please note future time slot is not guaranteed.
Will there be time staggering entrances?
Your ticket is good for the entire time slot. You may arrive at any time during the two hours thirty minutes. We find that the average visit is about one hour thirty minutes to two hours. You do not need to arrive at the very beginning of the time slot, but your entire visit must take place within the two hours thirty minutes slot.
Can I leave the Museum and reenter on the same day?
You may leave and re-enter the Museum during your timeslot.
What if I feel unsafe after entering the Museum?
If you feel unsafe after entering, please ask to speak with a manager or contact us after your visit at
Info@BostonChildrensMuseum.org
. We value your feedback and will work with you to find a solution.
What if I have tickets that I bought that have not expired/expired (during pandemic)?
If you have previously purchased tickets, please e-mail
Orders@BostonChildrensMuseum.org
.
Are strollers allowed?
Visitors are asked to keep their stroller with them at all times. Please do not leave it unattended other than outside specific exhibits where strollers are not allowed.
Are you accepting any discounts?
(EBT/WIC, Educators, Library, Military/Veterans, etc.)
Some of our discount programs are still active. Please visit
https://www.bostonchildrensmuseum.org/visit/ways-save
for our current discount programs.
Will the Museum be open for TJX $1 Friday Nights?
At this time, the Museum will not be open for TJX $1 Friday Nights. We are committed to bringing them back in the future.
Can I bring in my own food?
Yes, you can bring in your own food. You may eat in our lunchroom on the first floor. Masks are not required while seated in the lunchroom and eating.
Will there be water available from the fountain?
Due to state regulated health mandates, refilling water bottles will not be available. There will be water for purchase in The Shop at BCM and vending machines in the Lunchroom.
Will the Shop at BCM be open?
The Shop at BCM will be open during Museum hours.
Will the cafeteria be open?
Yes, the lunchroom will be open. Please note: The Museum does not currently have a restaurant partner in the building.
Will I have access to vending machines?
Yes, the vending machines will be available.
My company is a Corporate Connections member. How do I redeem my passes? Is there a special online code for timed ticketing?
Please make a discount ticket reservation
https://www.bostonchildrensmuseum.org/ticketing
When you arrive at the Museum, please proceed to the Admissions Desk. You will be required to present your online reservation and Corporate Connections passes for entry.
Are there any special times dedicated to those with sensory issues?
Museum capacity is limited. If you need a quiet space, please ask a staff member for assistance. Future Morningstar schedule will be announced later this summer.
Exhibits & Programs What exhibits are open/closed?
All exhibits will be open except for PlaySpace, The New Balance Climb, KidStage, parts of Construction Zone, and parts of Boston Black. The Japanese House will be open on a limited schedule. These exhibits are closed at this time to ensure safe distancing.
Bubbles and Peep's World will be open, but there will not be smocks available. Bring an extra set of clothing from home if necessary.
How will interactive exhibits like raceways and bubbles work?
Spaces have been modified to facilitate physical distancing of family groups, and better sightlines to see where other visitors are.
Loose parts (like golf balls) will be regularly restocked to keep a clean supply. After use, used parts bins will be available.
Cleaning will happen frequently – before, during, in-between, and after visitors enjoy the exhibits. High tough areas will get extra attention. Exhibit props will be sanitized as needed and between scheduled visitor sessions.
Sanitizing wipes will be available throughout the Museum.
Loose parts and costumes that are considered high risk, or are difficult to clean, have been removed from exhibit areas.
Additional staff will be present throughout the whole Museum as a safety reminder for visitors to keep their mask on, to stay physically distant, to wash/sanitize hands regularly, and to do their part in providing regular wipe-downs in high-traffic areas.
What activities/programs are running/not?
The Art Lab is open with reduced numbers per program session. We are working on both familiar and new programs that can be conducted safely upon re-opening.
Members
Will my membership be extended?
The Museum announced on March 13, 2020 that all Family Memberships will have their expiration date extended to compensate for the time the Museum was closed. Updated electronic membership cards will be e-mailed to members after a reopening date is announced. If you have opted out of e-mail from the Museum, you will not receive a revised electronic card.
Do I have to make a reservation?
For your safety, so that the number of people in the building can be limited, when Boston Children's Museum reopens to the public, all visitors, including Family Members need to make a reservation in advance. There is no charge for Family Members to make a reservation. To make a reservation visit this page
https://www.bostonchildrensmuseum.org/ticketing
Am I limited in how many times we can visit?
Family Members are not limited in the number of times they can visit. You may book one reservation per day. You cannot make reservations for multiple days on one day. For safety reasons, the number of people allowed in the building will be limited.
Private Events & Groups
Can I reserve a special event?
Yes. With more than 88,575 square feet of usable event space, including seasonal outdoor space, Boston Children's Museum is well suited to hosts events under the guidelines and recommendations of the local public health department.
Our special event partner, MAX Ultimate Food, will work with you in designing your event in this new environment. The safety and well-being of you and your guests is our top priority. For additional information, please email
bill@maxultimatefood.com
or telephone 857-212-9580.
Can I make a group reservation?
As the Museum transitions and adjusts to a new normal and schools, camps, and community organizations do the same, group reservations will be considered on a case-by-case basis. Please fill out the reservation request form here.