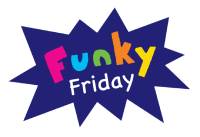 Success Charter Funky Fridays!
Welcome Success Academy Charter School scholars! Boston Children's Museum is excited to bring Funky Fridays to your afterschool program. During Funky Fridays, you'll have the opportunity to join educators from Boston Children's Museum for a fun, silly, hands-on way to kick-start your weekend! This program is specifically designed to help children in grades K-2 have fun playing and exploring in service of learning. You will move your body, make things, practice observing and asking questions, and engage in interdisciplinary play.
Funky Fridays kick off at 4:45pm on September 25 and will run through October 23. See you there!