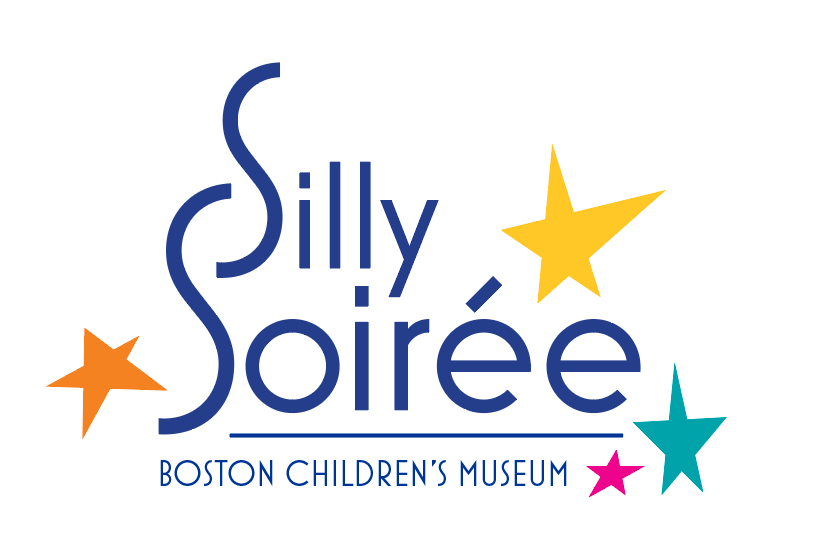 ---
---
Boston Children's Museum presents

Silly Soirée

Saturday, March 3, 2018
6pm–8:30pm

Fancy Fun for Kids and Their Grown-Ups

Boston Children's Museum
308 Congress St
Boston MA 02110

---
TICKETS
$40 – Early Bird Rate until January 31
$50 – Regular Ticket Price February 1-24
$70 – Week-of Rate February 25-March 1

BUY TICKETS

---
PROGRAM
Our silliest party-goers are invited back to Boston Children's Museum for our 2nd annual Silly Soirée! The Silly Soirée is a unique event at Boston Children's Museum – an event planned by the kids and for the kids. The formal party and fundraiser will allow kids and their grown-ups a unique opportunity for a special date night on the town: dinner and dancing, kids' style. All proceeds from the event allow kids and families to access the Museum and its programming, regardless of challenging life circumstances. Keep your eyes open for some special character guests on the dance floor!

The evening's programming will consist of the following:

6-8:30pm: Explore the Museum and take advantage of our silly photobooth throughout the evening!
6-7pm: Dinner
7-8:30pm: DJ, dancing, and dance games
8-8:30pm: Dessert

Exhibits will be open to attendees, with a special art activity and additional group games, including Giant Jenga and Twister.
---
SPONSORSHIP
A Silly Soirée sponsorship is a unique opportunity for you to showcase your goods and services to your target demographic – families in the Boston area. All are committed to helping develop the next generation of minds to support, build and strengthen our greater community.


100% of funds raised from
Silly Soirée
will ensure the Museum remains accessible to all groups. By helping different community and school groups access our exhibits and programs throughout the year, we will increase the depth of out-of-school-time learning by nurturing creativity and building skills critical for school readiness and success.
We are offering four sponsorship opportunities, in addition to the option to purchase ad space in our interactive event program:
Sponsor of Laughs – $25,000
Sponsor of Giggles – $10,000
Sponsor of Chuckles – $5,000
Sponsor of Smiles – $2,500

Full page ad (5.5"x8.5") – $250
Half page ad (5.5"x4.25") – $150


Click here to purchase ad space.
For more information, including sponsorship benefits,
click here
.
---
COMMITTEE
Silly Soirée is an event not only for the kids, but by the kids.

Our Event Committee of girls and boys ages 2-12 strives to raise funds to make the Museum accessible to all groups. Our kids' planning committee has fun and gets the opportunity to help other kids explore their dreams at Boston Children's Museum.


Aaliyah, age 8
Alondra, age 12
Antonio, age 9
Avery, age 2
Aya, age 2
Brooke, age 6
Callan, age 4
Cameron, age 6
David, age 5
Ellery, age 3
Finley, age 3
Gigi, age 4
Harper, age 5
James, age 6
Jax, age 9
Lily, age 7
Louis, age 8
Molly, age 5
Naya, age 11
Parker, age 7
Praniti, age 8
Robert, age 4
Summer, age 7
Vinisha, age 5
Zadie, age 5

As of 1.22.2018


We are still looking for a few more kids (and their grown-ups!) to help us plan and prepare for this event. If you are interested in joining, please email
stack@bostonchildrensmuseum.org
.
---
DONATE
For over 100 years, Boston Children's Museum has opened the door to discovery through hands-on exhibits designed to educate and engage kids and their grown-ups:

- 500,000 visitors every year!
- 35% of visitors are able to attend thanks to free or reduced admission through our Library, Friday Night, EBT, Sponsored Visits, Morning Star Special Needs, Teachers, and Military outreach efforts.

Your tax deductible contribution helps young children and their families by nurturing curiosity and building important skills vital for lifelong learning.
---
CONTACT
Questions? Concerns? Would you like to get involved in some other way?

Please contact Senior Development Manager Katie at stack@bostonchildrensmuseum.org or (617) 986-3662.