Accessibility & Special Needs
Some of the exhibits may be closed or modified to maintain health-safety during the COVID-19 pandemic. For more information, please refer to the COVID-19 Q&A page.
Boston Children's Museum provides programs, exhibits, and spaces that are accessible to all visitors. Our staff members continuously receive training on Accessibility and Inclusion to better assist visitors and are always happy to answer questions or provide assistance.

Contact
Access@BostonChildrensMuseum.org
617-426-6500 x327
Access Programs Sponsored by Liberty Mutual
ASL Interpreted Programs
ASL interpreted programs are regularly scheduled. Please check our monthly calendar for dates and more information.

Upcoming Program:
Critter Weekend: Swift Serpents - Saturday, May 21, 2022, 9:45am, 10:30am, and 11:15am
Morningstar Access
The Morningstar Access program offers children with special needs/medical needs the opportunity to visit the Museum at a time when there are only a few other visitors. At these times, we have a limit of 100 guests, and children and their families can explore the Museum with less concern about infections and large crowds.


Mask Optional Masks are recommended but not required for visitors. The Museum staff will wear masks when interacting with visitors.

Dates/times
Friday, June 24, 2022, 5:30-7:30pm - Evening Edition!
Saturday, August 6, 2022, 8:00-10:00am

All Masks On! All staff and visitors ages 2 and older are required to wear masks with no exceptions. Families with any types of needs must be able to follow this strict mask rule in order to maximize health safety for children with medical needs.

Dates/times
Saturday, May 7, 2022, 8:00-10:00am
Saturday, June 4, 2022, 8:00-10:00am
Saturday, July 2, 2022, 8:00-10:00am
Preregistration
is required!
For more information contact:
Saki Iwamoto, Health and Wellness Educator
Iwamoto@BostonChildrensMuseum.org
617-986-3697
Assistive Listening Devices
A limited number of assistive listening devices are available for all performances in our KidStage Theater and in other exhibits when possible. These devices are available at the Admissions desk. A form of ID must be provided to borrow equipment. - Temporarily unavailable.

Food & Other Allergies
The Museum is an allergy aware environment. It is not an "allergen free" or "nut free" space. Learn more about the
Museum's Allergy Awareness program
.
Food and drinks are only allowed in the Museum's designated eating areas. Snacks and lunches are welcome in the 1st floor lunchroom. Special eating spaces are provided for school groups and birthday parties.
Please consider leaving nuts and nut butters at home.
If your family has food allergies that prevent you from eating in the designated eating areas, please ask a staff member for assistance. Reasonable accommodations will be made, when possible.
If your family has serious concerns with allergies, please consider visiting during Morningstar Access. Morningstar Access is a quieter, more controlled visiting time for children with special/medical needs. Learn more about Morningstar Access.
The Museum is not "latex free", but staff limits the use of latex in programs, when possible. Please ask about latex free options. All balloons at birthday parties must be Mylar.
Mobility
The entire Museum is accessible
The main elevator serves all three floors of the Museum
Restrooms are wheelchair friendly
Service animals are always welcome
A limited number of adult and child wheelchairs are available, free of charge, at the Admissions desk. A form of ID must be provided to borrow equipment.
A limited number of strollers are available, free of charge, at the Admissions desk

Printed Materials
A social story book is available to prepare children for their visits and show what it's like to visit the Museum. This information is written based on the regular museum operation, not the adjusted operation during the pandemic. please refer to COVID-related info page for more information. Download a PDF of this book.
Multi-language maps are available at the Information desk.
Large-print maps are available at the Information desk. You may also download floor maps in PDF format:
All-Floors Map | 1st Floor Map | 2nd Floor Map | 3rd Floor Map
Transcripts are available for all KidStage shows.

Quiet Spaces and Times
The Museum is typically quiet on school weekdays in the afternoon
Quiet places in the Museum:

First Floor

KidStage when there are no shows (the theater is also dark)
The Group Welcome Room when there are no groups

Second Floor

The tent in Arthur & Friends
The shadow area in Peep's world
The ends of the hallway

Third Floor

The Japanese House on less busy days
The ends of the hallway

Service Animals
Service animals are always welcome.
Sound-reducing Earmuffs
A limited number of sound-reducing earmuffs are available, free of charge, at the Admissions desk. The earmuffs fit children about 0-12 years old.
Some of the exhibits may be closed or modified to maintain health-safety during the COVID-19 pandemic. For more information, please refer to the COVID-19 Q&A page.
Our exhibits are designed to accommodate different learning needs and abilities. Please use the following icons as a guide to navigate the museum based on your strengths and learning styles. It is also fun to try out something new and see how else you can interact with our exhibits to enhance your learning!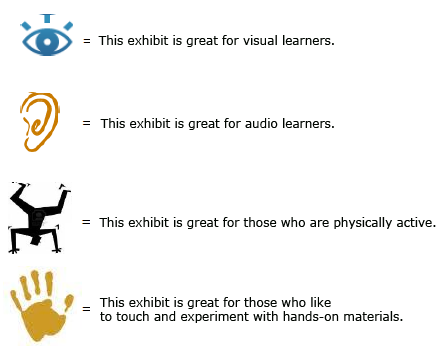 Raceways



You can see how balls move and jump in different tracks. Does the speed change? Do you notice how sounds change when balls run slowly or fast?
There are different heights on the tracks where you can start rolling the golf balls. If any places are too high or too short for you to reach, you can work together with your friends, grownups, and Museum staff.

Investigate



Often times, Museum staff members are facilitating science activities in Investigate. They are happy to help you play and learn at your own pace, based on your abilities.
Science Playground is home to several animals. Here, you will find a snake, a bearded dragon and two turtles! Also in this area, you can find a machine that makes different kinds of bird sounds.
Test your sense of touch by playing one of the guessing games.

Bubbles



You can make a huge bubble, which you can observe or pop!
Blow bubbles on the tables and pop them! How does it feel on your fingers or hands when you pop the bubbles?
Can you poke your finger through a bubble? Soak your hand with bubble solution and try to poke your finger into a bubble! (There are big bubble wands so that you don't have to chase floating bubbles to pop or touch them.)
Can you smell bubbles? Do you like the smell? Is there anything in your house that smells like our bubbles?

KidStage



KidStage is home to short, 15–20 minute plays with professional actors. You can also volunteer to play a part in the show! The shows are visually interactive and highly verbal.
Even if you are not on stage, you can always participate by making sounds or saying a line together with other children in the audience.
You can request amplified listening devices at Admissions to make hearing easier
Transcripts are available upon request..

KidPower


KidPower has a lot of materials to keep children active and teach them how to eat healthy.
Pulley chairs and power pedaling bicycles only require the use of arms.
The dance floor and power pumps only require the use of legs and lower part of bodies, but it's also possible to make it work with your arms or wheelchair
You can feel the weight and the thickness of the weights on the power–in/power–out balancing game.
The climbing structure goes up to the 3rd floor. Entrance and exits are located on the 1st floor. So, you need to climb down once you go up! Grown–ups are welcome to climb with children.
PlaySpace





PlaySpace is designed only for children ages 0–3.
There are a lot of infant/toddler toys in different colors, shapes, and sounds.
The nursing room is a nice quiet space to relax and have some privacy.
There are always staff members in this exhibit to assist you and answer questions!

Peep's World


In Peep's World, you can play with water and shadows!
You can touch water directly, or you can use a variety of tools to see how water works. How does water feel on your hands? What sounds does water make when you dump it in the table? How heavy can water be in containers of different sizes?
The shadow area can be a nice, quiet, and relaxing place. Can you hear something in there? Can you guess what the sound is? Have you heard something similar before?

Countdown to Kindergarten




This model classroom welcomes kids to take part in a typical Boston Kindergarten experience while adults can ask staff "teachers" questions they may have about Kindergarten.
There are a lot of different kinds of toys. Can you find different shapes or letters by either seeing or touching?
Find buttons on the screen with your grown–ups. What is it about?
You can read or listen to books, too!
You can also drive a bus! Does the bus make any noise? Have you been on a bus before?

The Common




You can find a big checker board, light table with tangrams, and smaller game tables that you can play with your families and friends. You can use your eyes to play games as well as touch them to find out shapes and sizes of the pieces.
Try to sit on the musical chairs. What kind of music are the chairs playing? Do you notice different rhythms, notes, and instruments? If you cannot sit directly on the chair, can you find ways to make this chair work without sitting?
Sometimes, you can find special performances and fun, live presentations in The Common. They are fun to see and hear!

Arthur and Friends




You can participate in different kinds of imaginary play with characters in Arthur and Friends. Play in the TV studio, nurse's office, school, backyard, and kitchen. You can be a pilot and control an airplane!
You can touch and feel magnetic letters in the school as well as food in the kitchen.  Dress up Arthur and see how he looks in different outfits. 
The controller in the airplane is accessible by wheelchair or by sitting in the pilot's seat.
Art Lab



The Art Lab is a fun, messy, hands–on activity space where children and families make art together.
Various activities accommodate children of different ages, interests, and abilities.
There is a new theme every month. 
There is always a staff member in the Art Lab who can help you with your creation.
Japanese House




In the Japanese House, you can explore a real, traditional Japanese House that was brought from Kyoto, Japan.
The Japanese House is fully accessible by wheelchair. Staff members can assist you with getting into the house.
Although the Japanese House is old and fragile, you can touch most of the things in the house as long as you are careful and gentle with them.
Staff can answer your questions about the traditional Japanese House and more current, modern living in Japan.
There is a short video about both traditional and modern living in Japan that you can watch and listen to.

Boston Black




You can dance to music, listen to people's stories, go shopping, or visit a barbershop!
Can you find out what is sold in the market? All fruits and vegetables have different textures and shapes!
There are scented shapes in the market. Do you like the smell?
You can work in a salon. You can look at different hairstyle and create a new style for salon customers.

Construction Zone



All materials are rather simple and easy to manipulate. Are there different kinds of blocks? How do they fit together?
If you like to move around, you can crawl through the tunnel, climb up the climbing structure, and walk on the balance beam.
If you like to play more quietly, you can hop onto the Bobcat, play with small trucks, or build a big house with your family!
The first level of the climber is a great size to use as a table to play with trucks and blocks for visitors in wheelchairs.