Boston Children's Museum is currently not offering parties. We hope to bring back a revamped Birthday Party soon. Please check the website for future updates.
Celebrate your child's birthday at Boston Children's Museum! We offer bright party rooms, fun and interactive activities, and three floors of exhibits for you and your guests to discover the power of play.
Planning your child's birthday party with us is a piece of cake!
Give your child a birthday party to remember forever! The Blue Room package includes access to the full Museum during your party's admission session, either 9am-12pm or 1:30pm-4:30pm. The Birthday Coordinator will work with you to help plan this special day, from the layout of the room, to the different types of add-ons, to the schedule to help make sure you and your guests have enough time to experience everything the Museum has to offer.
The Blue room is equipped with two bathrooms, an 8 ft. table for food, a 4 ft. table for cake, a 4 ft. table for gifts, 5 tykes tables for children seating, two 8 ft. tables and chairs for adult seating, and a piñata pulley.
| | |
| --- | --- |
| Blue Room Package | $600 Museum Members receive $50 off the Room Rental Fee |
| Guests: | 25 guests included with party package |
| Activities: | $5 per child (additional charge) |
| Additional Guests: | $14 per person (both children and adults) This room holds a maximum of 50 guests total |
| Securit Deposit: | $100 (additional charge) |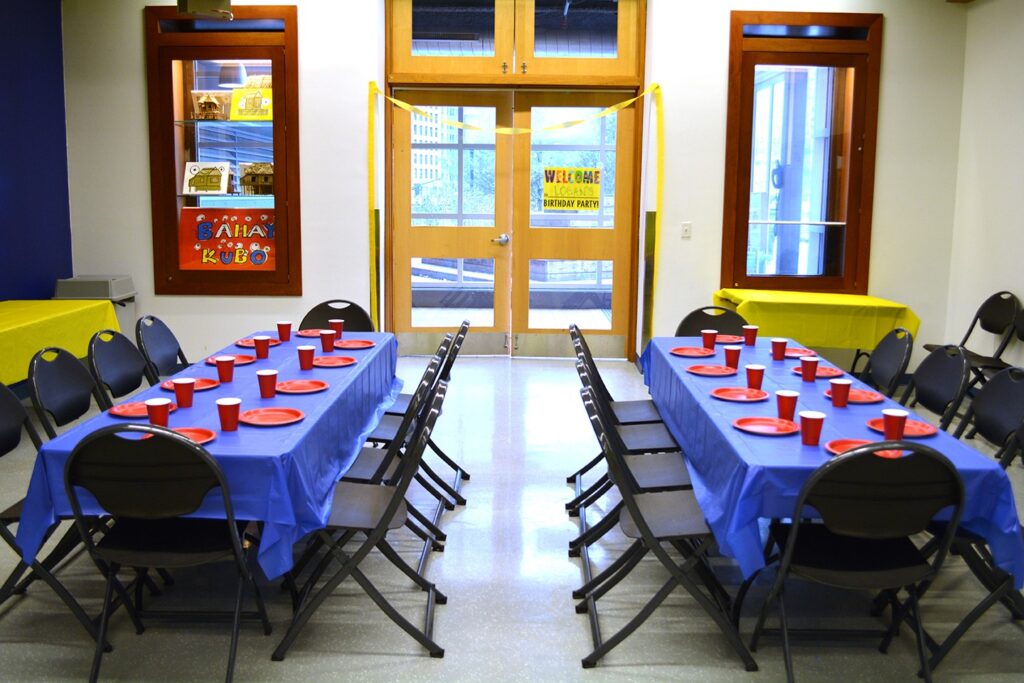 We want your Boston Children's Museum birthday party to be a wonderful experience. As such, we can offer several suggestions for vendors you can choose from that best suits your party. You are also welcome to provide your own cake, either from home or from a bakery of your choice. 
The Museum does not allow food heating devices and prohibits the consumption of alcohol. All food and cake must be consumed in the party room.
* Indicates Required Field. The form will not submit successfully if you leave this field blank.
Is Outside Entertainment allowed?
We do not allow outside entertainers.
Are masks required during the party?
Masks are required for all visitors over the age of 2. Masks must be worn at all times and must cover both your nose and mouth. Masks may only be removed when you are socially distant from others, stationary, and actively eating at a table. Any visitor who does not follow this rule may be asked to leave the Museum.
How far in advance should I book my party and do I have to pay when I book?
All reservations are made on a first-come, first-served basis and are subject to availability. If there is a specific date that you are looking for, we recommend you book 2-3 months in advance. To book a reservation, a deposit of the Room Rental Fee and Minimum Attendee Fee must be made in full by credit card. This payment is 50% refundable up to 30 days before your party date. Cancellations made less than 30 days prior to your party will not receive a refund. All such notices shall be in writing by email to the Coordinator.
I am a Museum member. Do I get any discount on Museum parties?
Museum members receive a $50 discount. Please note that this discount is on the party package only.
Inclement Weather or Family Emergency
If the Museum is forced to close due to inclement weather or any other emergency, we will reschedule the party at a time convenient to the host up to three months from the original party date or return the deposit. If the host cancels the reservation due to inclement weather, the Museum reserves the right to retain the deposit if the Museum is open for business. In the event of a family emergency, the Museum will work with the host to reschedule the party within three months of the original party date. There is no additional fee to reschedule, but all dates are subject to availability.
What time can I have my child's birthday party?
Parties are offered on Saturdays and Sundays from 9:00am – 12:00pm or 1:30pm – 4:30pm.
What is the Security Deposit?
A security deposit of $100 is due when the party is booked with the Event Manager. The security deposit will be returned within 14 days after the party if there has been no infraction of the Birthday Agreement by the host or party guests, which includes any violation of the Museum's Code of Conduct. A cancellation will result in the forfeiture of the security deposit.
Who is included in the total number of guests?
All guests, both children and adults, are included in the total number of guests. Museum Members cannot be excluded from your total number of guests. Even though they are Members, they will still need a ticket to enter the Museum.
Is parking included?
The Museum does not have private or dedicated parking. Please see the Parking page on our website for more information on rates and locations.
Can the party be for two children at the same time?
Yes. However, the total guest count does not increase with an additional birthday child.
Can I decorate the room?
Yes. Decorations must remain in the room and cannot be hung outside the room, in the lobby, etc. If you need to hang anything on the wall, you must use blue painter's tape. Masking tape and tacks are not permitted, as they can cause damage to the walls. Any balloons must be Mylar, as Latex balloons are not permitted in the Museum due to choking and allergy concerns. We also do not allow helium tanks in the building.
What is the role of the Party Coordinator?
Every party comes with a Party Coordinator to help with set up and clean up. Your coordinator will also collect all presents, leftover food, and any other supplies you wish to take home. The Party Coordinator is not in the room for the entire party, but will regularly check in to ensure the party is running smoothly. While the Coordinator is there to help, please remember that we always defer to a parent for behavior correction, timing, etc.
Can I have a piñata?
Yes, however, we require the piñatas to have pull strings as we do not allow bats or sticks to break them open.
What if I need to contact someone on the day of my party?
Please call the Museum's Information Desk (617-426-6500) and they will put you in contact with the party coordinator. Our coordinators are rarely in the office on the weekends as they are usually in one of the party rooms.