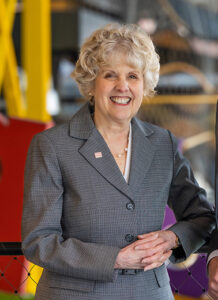 I want to extend my personal welcome to you from Boston Children's Museum. Over the past 100 years, 25 million children and their families have visited our world class Museum, seeking joyful experiences rooted in discovery, play, social interaction, and creative exploration. In its 100th year the Museum's multisensory, hands–on, child–centered environment continues to engage, amaze and entertain at its beautiful waterfront museum and park in Boston's vibrant Innovation District.
At a time when many children spend hundreds of hours using electronic media, Boston Children's Museum provides a place to unplug, discover, and explore. Interactions with our collection items, physical activities that build confidence, and exposure to our fully professional theatre, well–stocked art studio and multiple science exhibits, in addition to hundreds of programs in music, dance, global cultures, and STEM offer unparalleled opportunities for language, literacy, critical thinking and brain development; opportunities not available in the home or classroom.
Our goal is to provide our visitors with a safe and welcoming environment that allows them to share joyful experiences with one another while sparking the imagination, curiosity and creativity so important to the development of our young children. Through self–directed play children can follow their interests, discover new things, make their own decisions, conquer their fears, and feel the satisfaction of creating something of their own.
Please explore our website to plan your visit, learn about our exhibits and programs, and find information that will help you along your child–rearing journey. We hope you will let us know how we can be of greater help to you and will look forward to seeing you here at the Museum!
Carole Charnow
President and CEO