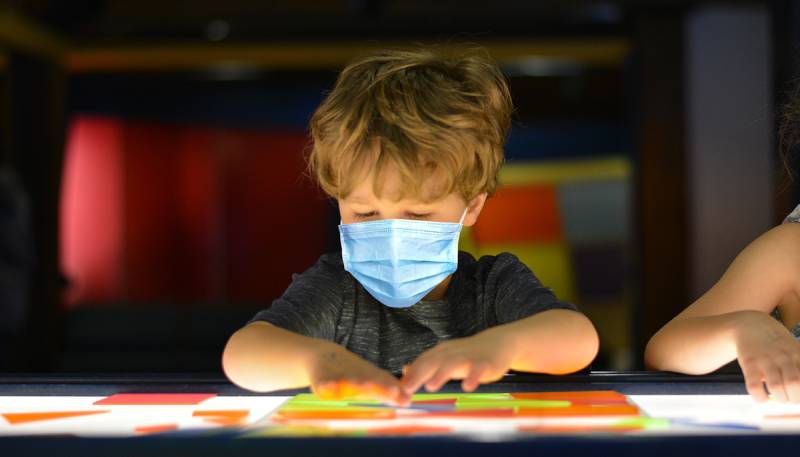 Online Purchase Required
Online tickets/reservations for both non-members and members are now required. The Museum is re-opening with reduced capacity and is adhering to State and City guidelines to ensure you have a safe and enjoyable visit. As part of our commitment to the health and safety of our visitors and staff, we have implemented enhanced safety and cleaning protocols and procedures you will notice during your visit.
Hours of Operation
The Museum is open Wednesday through Sunday with two time slots for visits: 10:00am - 12:30pm and 2:00pm - 4:30pm. When purchasing your ticket, or making a member reservation, you will be asked to select a date and time slot for your visit.
Arriving at the Museum
Please check your ticket! Visitors will only be admitted for the date and time selected at time of purchase. Entry lines have been reconfigured to allow distancing and contactless entry wherever possible. Details on your ticket will tell you where to proceed when you enter the Museum. In accordance with State guidelines, all visitors age 2 and over are required to wear masks.
Exhibits and Programs
All exhibits will be open except for PlaySpace, The New Balance Climb, KidStage, parts of Construction Zone, and parts of Boston Black. The Japanese House will be open on a limited schedule. We have chosen to keep these exhibit spaces closed for now. We are working on new cleaning techniques that will enable us to open more spaces over time. The STEAM Lab, Art Lab, and the Japanese House are all open with reduced numbers per program session. There are no additional programs scheduled with our initial opening but we are working on familiar and new programs we hope to offer soon. Please also note that while the Bubbles and Peep exhibits are open we are not providing smocks. Please bring extra clothes if you feel it is necessary.
Throughout your Visit
-All Staff and visitors age 2 and over are required to wear masks.
-Staffing within the Museum has been increased to monitor social distancing and take on additional cleaning responsibilities. The Museum will be thoroughly cleaned between visit time slots.
-Exhibit loose parts will be rotated and cleaned between time slots.
-Capacities for each exhibit will be displayed at entrances to each space.
-Additional hand sanitizing stations have been added throughout the Museum.
-Wipe stations have been added throughout the Museum.
-Restrooms will be limited to two people or families at once.
Terms and Conditions
COVID-19
: We have taken additional health, safety and cleaning measures to reduce risk for our visitors, staff and community. Visitors to Boston Children's Museum must follow all posted instructions. A risk of exposure to COVID-19 exists in any public place. It is an extremely contagious disease that according to the Center for Disease Control, can lead to severe illness and death, especially for senior citizens and people with underlying conditions.
Upon entry to the Museum visitors will be asked to address the below four (4) questions:
Have you been in contact with someone with COVID-19?
Do you or does anyone in your household have a fever?
Are you or is anyone in your household sick?
Have you or anyone in your group traveled outside of Massachusetts in the last 14 days?
Tickets and/or Reservations
:
Tickets purchased through the website are non-refundable and non-replaceable if lost or stolen.
Tickets and/or reservations are only valid for date and time selected at time of purchase.
Ticket is non-refundable, has no cash value, and is not available for re-sale.
Ticket holder is subject to all of Boston Children's Museum's policies
Web Site Privacy Policy
: Our complete Privacy Policy including but not limited to, web site, donor privacy, accessibility and opt-out policies can be found here:
http://www.bostonchildrensmuseum.org/privacy-policy
If you have any questions about these privacy statements, the practices of this site, or your dealings with this Web site, you can contact us at
Info@BostonChildrensMuseum.org
.
If you have previously purchased online tickets, wish to redeem gift passes or Go Boston vouchers or wish to pay in cash, please call 617-426-6500 option 4 or e-mail
Orders@BostonChildrensMuseum.org
.