Boston Children's Museum's STEAM (Science, Technology, Engineering, Art, Math) programs and exhibits engage children in the excitement and creativity of discovery, making, and problem-solving. Inviting children and families to engage in STEAM challenges, use tools, and develop skills, Museum STEAM activities provide opportunities for hands-on, open-ended explorations that ignite imaginations.
A space to engage in hands-on science, technology, engineering, art, and math activities that encourage creativity, curiosity, and critical thinking.
A dynamic space focused on visual arts, designed to encourage children to engage in art making, observing, exploring, expressing ideas, and using different tools.
These experiences, facilitated by Museum staff or partners, foster intergenerational learning through activities like screen printing, laser cutting, paper making, and learning to solder.
Across all of our STEAM spaces, you will find opportunities to explore, create, and engage in unique STEAM projects.
Throughout the year we offer special events that include innovators and artists, giving visitors the chance to interact with new technologies and meet real-life STEAM professionals.
STEAM mentors who love learning, sharing their knowledge, and finding new and surprising ways to bring STEAM to children and families!
Bring the fun of Museum STEAM experiences home through activities you can do with simple materials and lots of imagination and creativity.
Get creative! The Creative Labs space offers multiple ways for children and families to engage with STEAM. Through hands-on STEAM activities, art installations, and exploring tools and materials, visitors can create, discover, and explore.
The STEAM Lab is a space for hands-on science, technology, engineering, art, and math activities designed to foster creativity, curiosity, critical thinking, and problem-solving.
Our Art Lab offers multisensory arts experiences that emphasize self-expression and experimentation. Visitors have the opportunity to explore, create, play, and learn in this creative space.
The Gallery introduces children to art through installations from practicing artists, providing inspiring and thought-provoking art experiences.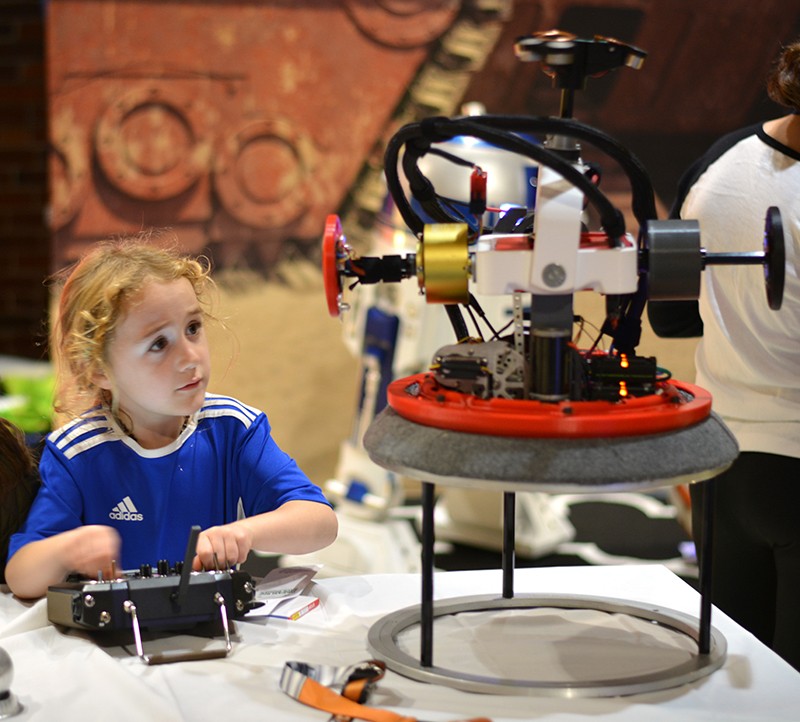 Each year, the Museum hosts a hands-on festival celebrating the innovative work of local artists, technologists, innovators, and creative do-ers! Try hand-on activities, learn about new technologies, and marvel at amazing works of art. See what you can create when you're inspired by STEAM.

The curiosity and generative thinking fostered through art nurtures design skills that stand on their own, but also supports STEM problem solving. Art skills are applied in open-ended STEAM challenges that involve investigation, trial and error, playful experimentation, and creativity. The A in STEAM invites visitors to observe, ask questions, make connections, and push the boundaries of their imagination as they engage in creative problem-solving.
STEAM Habits of Mind are the ways of thinking that children can develop by inventing, investigating, exploring, and experimenting. Curiosity, persistence, and creativity are nurtured when children explore the world around them. Encouraging children to ask questions, make observations, predict outcomes, and describe results builds these foundational ways of thinking.