High Seas Tales and Treasure!
Friday April 21st 6:00-9:00pm
Enjoy a night full of epic wonder, swashbuckling pirates, fantastical merfolk, and tales of treasure! Live out a fantastical adventure searching for treasure or exploring under the sea. Put your skills to the test and see if you have what it takes to join the pirate crew, or dive under the water and help the merfolk of Atlantis expand their underwater city. Earn rewards and treasure by completing different challenges and making your way through different tales of the deep. Create your own adventure and story, and see what wonders await you during the High Seas Tales and Treasure night.


Highlights
Tales of Sunken Treasure
What wonders can you find when you help the merfolk dig for lost treasures?
Kraken Challenge
The Kraken has gotten loose and the Sea Creature Keeper needs your help finding all the sea creatures.
Pirate Crew Challenge
See if you have what it takes to join the pirate crew by completing various pirate challenges.
Tales of Atlantis
Build and expand the underwater city of Atlantis. Complete different challenges to earn rewards.
Treasure Hunt
Test your puzzle solving skills and help the pirate crew find the treasure as you make your way all throughout the Museum.
High Seas Characters
Engage with characters all throughout the Museum for added surprise, tales, challenges, and fun.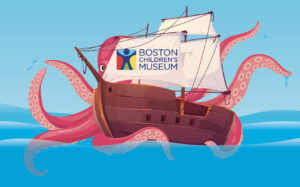 Tickets $30 per person
Four-Pack Bundle $100 ($25 per ticket)