The Atrium & The Plaza
With its 40-foot floor to ceiling windows looking onto The Fort Point Channel, The Atrium is the ideal space for receptions and seated dinners. The space features interesting design elements that promote a variety of different set-ups. During warm weather months, the floor-to-ceiling windows may be opened to allow for outdoor seating and access to The Plaza.
Atrium Capacity: 180 seated / 350 reception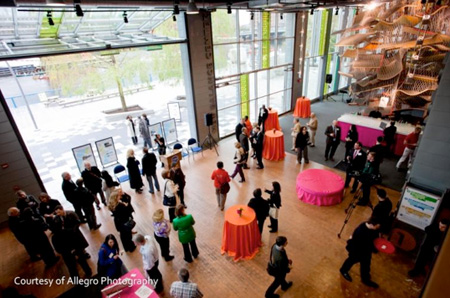 The Common
The second floor houses The Common, which is perfect for presentations, receptions, and seated dinners. The Common is easily accessed from the central staircase and main elevator, and is adjacent to the exhibit spaces. The natural stage is perfect for presentations, performances, and dance floors.
The Common Capacity: 230 seated / 250 reception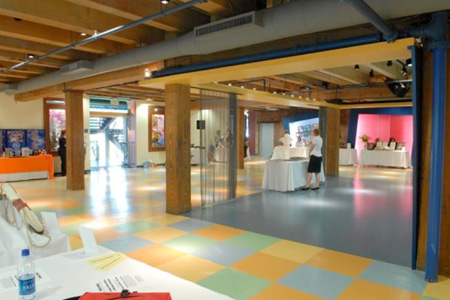 Dewey/Seuss Conference Rooms
Located on the fifth floor and away from the exhibits, The Dewey and Seuss Conference Rooms are ideally suited for meetings, and may be accessed through the building's business entrance. Large windows offer a stunning view of the Fort Point Channel and Boston's Financial District. These spaces are equipped with audio/visual equipment including a podium and a large projection screen.
Combined Capacity: 230 seated /250 reception
Dewey Capacity: 150 seated/170 reception
Seuss Capacity: 50 seated/65 reception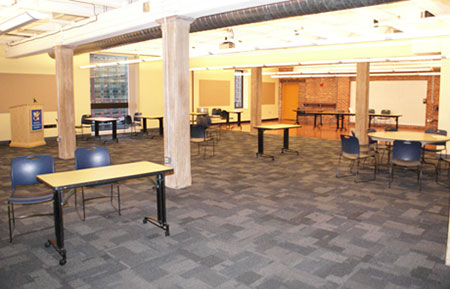 The Stage
Located on the first floor and ideally suited for presentations, panel discussions, and performances, The Stage offers theater style seating for up to 125 guests.